I grew up in the Three Sisters. When I was a kid – before Bend went boom and bust, before Sisters refashioned itself into a frontier retirement community – we used to go on a family backpacking trip every summer. I know we went other places – the Olympics, Goat Rocks, Strawberry Wilderness – but in my memory, we only ever went to the Three Sisters. And not just to the Three Sisters: we only ever went to Green Lakes. In my memory, every year we'd wake up at 4:30 and load into the car, which my dad would drive while the rest of us slept, listening to NPR's Morning Edition for so long that the stories would start to repeat. We'd all wake up as we passed through Sisters, then just a gas station and a couple galleries I wasn't old enough to worry about, eat pastries from the bakery counter at Albertsons, and ask loudly if we were there yet.
I never thought then about how much my parents were doing for us: how my dad stayed up late packing the car, just to wake up a couple hours later to drive us all there while we complained; how he'd carry more than the rest of our packs combined – so much that we'd have to help him up whenever he sat down; how my parents had to eek out small moments together in-between my brother and I nagging them about sore feet or mosquito bites or the bridge we were building down by the creek; how maybe they wanted to do something more expansive, to go on the sort of adventure I get to do now without even thinking about it, but were hemmed in by us; how, when we were old enough to bring girlfriends, they patiently fielded panicked questions from overstrict parents about sleeping quarters – "they will be in different tents, won't they?" – then casually let us sleep together, in our own tents away from the main camp.
In my memory, every year we'd go to Green Lakes, and every year we'd do exactly the same day hike: up from the lakes to the pass between Green Lakes and Park Butte, then off trail toward the Camp Lakes, in the land of rock and ice and rushing water. That place seemed so miraculous to me as a kid, jumping around on the sharp pumice, nearly getting blown off the mountain. One year we went off trail almost to the top of South Sister, but it seemed like we could have just kept going up forever. I remember eating canned pineapple hiding behind a rock on some ridge up there, the wind wailing, wonderfully wild.
That place still seems miraculous to me. It's the hike every hike I ever take will be compared to, standing still in time, still the same, even as the rest of the world has gone off to do whatever the world does.
Just as you enter the Green Lakes Basin, there's a trail off to the right, "Broken Top Trail #10." When I was a kid, it seemed like an alternative universe. Of course there was only one way into Green Lakes – up Falls Creek, the way we'd always went. Why would anyone need this other thing?
Then, a couple years ago, when I was just returning to hiking after a too long sojourn away from the woods, my friend took me to Three Creek Lake, on the other side of Broken Top from Green Lakes. We walked up Tam MacArthur, then over to the base of Broken Hand. It was getting late, and we were getting hungry, so we turned around. I didn't know where the trail went, but looking back one last time, at the rising ridge, I got that old feeling I used to have as a kid: if we followed that, we could keep going forever.
I took Krista back a year later, and went a little further, across a sketchy traverse on the side of Broken Hand and over to an unnamed lake at the base of Broken Top. Notice the totally inappropriate footwear.
There's something incredible about seeing a new corner of a familiar place, and, again, I wanted to keep going. There's a use path that continues past the lake and down to Broken Top Trail. If we followed it, we could enter Green Lakes Basin the "wrong" way, then loop around to Three Creek Lake, passing through new and old on the way back to where we started.
It took a couple years, but Krista and I finally headed up to complete the loop a few weeks ago.
Friday
We woke up early Friday morning – not quite 4:30, but close – and I drove bleary eyed down to Three Creek Lake, listening to Morning Edition while Krista half slept. We made it to the trailhead a little after nine, and quickly got onto the trail, running from mosquitoes.
We made it up to the Rim pretty quickly, but skipped the viewpoint. After the Rim turnoff, there's a "Trail Not Maintained" sign, but the trail doesn't degrade in any appreciable way, and may actually get a little nicer – at least less dusty.
After cutting across a few pumice meadows, the trail climbs onto the ridge that eventually leads west to Broken Hand, and the views open up even more. The Three Sisters from a new angle.
Getting around Broken Hand can be a little tricky. The trail seems not to have been sure exactly what to do, and so does everything all at once: one branch leads south, hugging a cliffy section of Broken Hand; another leads north over a sketchy snowfield; and a third just stops in its tracks and gives up. Last time we were here we cut over the snow field, which was no fun, so we cut south off the ridge a few hundred feet before Broken Hand and traversed the gentle meadows below. This is, by far, the easiest option. There are some great deer trails, and even a cairn marking nothing in particular, but even without any of that, it would be an easy walk. After passing Broken Hand, the trail veers south, but we went west for a little, to say hello to that unnamed lake. Like everything up there, it's not as unknown as it once was, but it's still worth the trip. It would probably be worth the price of admission all on its own.
After spending a good hour taking a million pictures, we eventually headed out, crossed a few snowfields, and started the walk down. Although the trail isn't obvious around the snowfields, it's very well defined as you get further down. The trick is to aim for the pass between Ball Butte and a smaller hill just west of it.
Looking up at Broken Hand.
And down toward Broken Top Trail.
We could have kept going for a while – in fact, the loop could easily be done as a two day / one night thing, or even as a loony dayhike – but we found an excellent campsite at the foot of Ball Butte near one of the eastern forks of Soda Creek, and decided to call it a day. The nice thing about stopping early is that it leaves plenty of time for picture taking (and bourbon drinking).
Saturday
The night was calm and cold. We woke up around six, leisurely packed up camp, and were on the trail by 6:45.
The unofficial trail we were on has become so popular that, when we hit the official Broken Top Trail, it actually seemed to be the more legit of the two. We meandered west for a while, crossing a bunch of creeks and taking way too many, nearly identical pictures of Broken Top.
Among the many, many things to love about this place is that it's just full of springs – water just coming out of the ground, almost wherever you look. We stopped at one, had a little breakfast, and chatted with the first hikers we'd seen all day – a couple doing the loop in the opposite direction. I really love breakfast on the trail. It's nice to put in a few miles and get a new view before stopping to eat. Plus, my stomach seems to perennially wake up two hours after I do.
After passing Cayuse Crater, we got our first views of South Sister, and walked through a bunch of meadows on the way to Green Lakes. I'm not sure if they ever flower. If they do, it must be incredible.
We eventually got to Green Lakes, took the de rigueur lake + mountain pictures, and scrounged around for some flowers. There were a few really nice patches of lupine and (more plentifully) paintbrush.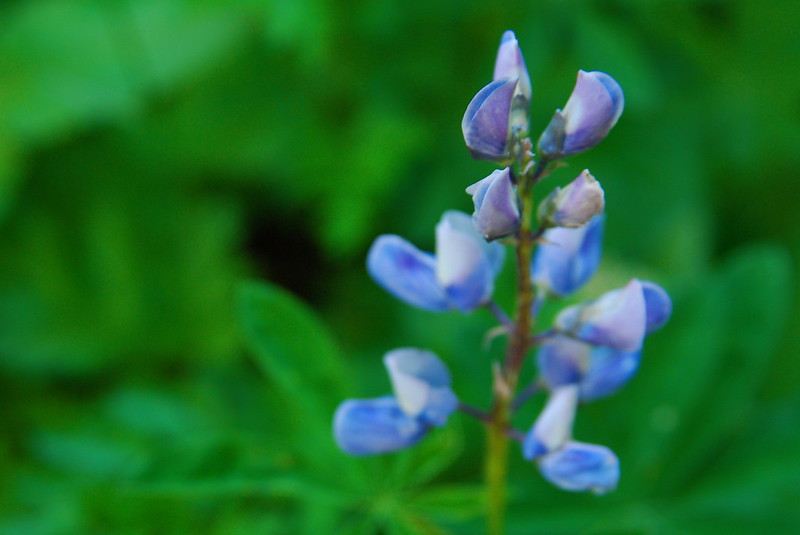 It felt strange to pass through what I'd only ever known as a destination. But we stopped for a break and a little food at the stream leading in to North Green Lake, maybe a quarter mile from where we always used to camp when I was a kid. It's a nice stream to know about, as it saves you from having to filter water from the lakes. The first time I found it, when I was 12 or 13, I imagined being the first person to ever stand there. Of course I wasn't, but when you're a kid, everything is a discovery. After hanging out for a while on the well-trodden ground, trying to start a conversation with some unresponsive geese, and wondering about several mosquito-related world records, we continued on up to the pass and down toward Park Meadow.
I'd been vaguely thinking about taking the side trail to Golden Lake, as we've never been there and I hear it's really pretty, but we somehow missed it completely and ended up down in Park Meadow before we realized we'd missed it. While filtering water at Park Creek, we ran into a pair of women who'd somehow missed the turnoff too. I guess maybe the trail's pretty small. Or maybe I'm just really unperceptive. We ran into a bunch of people headed there, so surely someone knows, but for the life of me I didn't see anything.
Ending up in Park Meadow created a dilemma: we didn't want to camp there, if just because of the ridiculously hungry mosquitoes, but continuing on meant entering the Pole Creek burn, where camping isn't allowed, and who wants to camp in a burn anyway? The women we'd been talking to decided to head up off trail, while we decided to keep going, get through the burn, and find a camping spot on the other side. This was a bad idea: although the official burn area stops at the Three Sisters Wilderness boundary, which here runs along Snow Creek about a mile and a half from Park Meadow, the actual burn keeps going several miles further, right up to Three Creek Lake. (If I'd been paying any attention to the views on Friday, I'd have known this.)
We could, of course, have just kept going to the car, but between the heat and almost immediately getting our lungs and noses full of ash, we were ready to call it a day when we hit Snow Creek. So we picked the barest spot possible and laid down our tent, making sure not to squish any of the fragile, hopeful regrowth. It was actually really cool. The first time Krista and I came up here, in 2012, the fire was just starting as we were leaving, and we just missed being evacuated by a couple hours. We saw the beginnings of the fire as we were leaving Sisters, and the fire's somehow always felt sort of personal in a way that's difficult to explain. And it was poignant, in a way that's equally difficult to explain, to see the burn now, with little bits of green seeping in at the edges.
The beginning, September 8, 2012.
The burn now.
Sunday
We slept in a little Sunday, packed up gingerly – trying (and failing) not to get ash all over everything – then walked the three or four miles back to the car. We'd heard that Trail 4075, the most direct route back to Three Creek Lake, was in really poor shape, so we stayed on Trail 99 to the unmarked intersection with the trail to Three Creek Meadow, then followed that back. There's a nice trail between the horse campground at Three Creek Meadow and Three Creek Lake, which I'd definitely recommend taking if you want to avoid dealing with the ton of weekender traffic on the road.
When we got back to the car, we took a quick swim in Three Creek Lake to wash off some of the ash. Floating away from the shore, I thought about what it means to connect old and new trails, to now be the one up driving at 4:30, still listening to Morning Edition in the pre-dawn dark as it loops back, replaying stories I didn't hear well enough the first time.