July 11, 2015
The next several posts will be mostly pictures. We've gotten a bit behind on blogging, and we're headed out to the John Muir Trail on Saturday (oh shit oh shit oh shit!), so we figured we'd post a few quick reports before leaving.
The weekend after we stayed at Wy'East Basin, we didn't really have a full backpacking trip in us, but we wanted to get out. It was our wedding anniversary, so decided to head to the Goat Rocks, where we went on our very first backpacking trip, just a month or so after getting married.
1.
On Friday night, we look at the weather for Saturday, and it looks bad pretty much everywhere, all day. Things look particularly bad early, so we leave Portland a little late on Saturday, around six-thirty, and blearily drive the three or so hours to the Snowgrass Flats Trailhead.
On the way up, it suns, then it rains, then it suns again. I nervously pump gas at a Chevron or something on Highway 12, feeling the whole time like a foreigner – a Russian spy trying to pass as an American in Get Smart. We drink coffee and listen to Brazilian pop as the road twists into Randle. We pass a massive motorhome, then a bright red American car passes us. I always feel like such a stranger around here.
The long Forest Service Road up to Snowgrass Flats is better than I remember it. It's washboarded, and the car shakes slightly as we make our way up the mountain. But it's a familiar feeling, and we both laugh a little. It's like one of those vibrating hotel beds. Did those ever actually exist?
A dozen dusty miles later, the trailhead's nearly fully, but we find a spot between a couple of grey Hondas.
2.
From the trailhead, we take the quick connector trail – confusingly just labeled "Horse," but actually 96a – to Berry Patch Trailhead, then continue up the Goat Ridge Trail (#95) up through largely anonymous forest.
Around 6000′, the trail opens up a bit, and the flowers come out. They're all a little past prime – everything's been a month early this year – but there are still beautiful pockets.
3.
The further up we get, the better the flowers. Here's American Saw-Wort:
Larkspur:
The flowers just get better and better, and I enter that mode where I forget that I'm walking, and just float through blooming, buzzing meadows.
Corn Lily:
4.
As we near the unnamed pass over Goat Ridge, the clouds come in closer to say hello…
…and eventually overtake us.
But the flowers more than make up for the lack of long views.
5.
The area between the Jordan Creek headwaters and the pass is just incredible. It's probably my favorite part of the trail and, oddly, one of the least crowded. I think that if I were to do this loop as an overnight – which, given the massive number of people already overcrowding it, I don't, at the time, think I will – I'd try to set up camp around here.
A rare rocky section:
More typical:
The headwaters of Jordan Creek: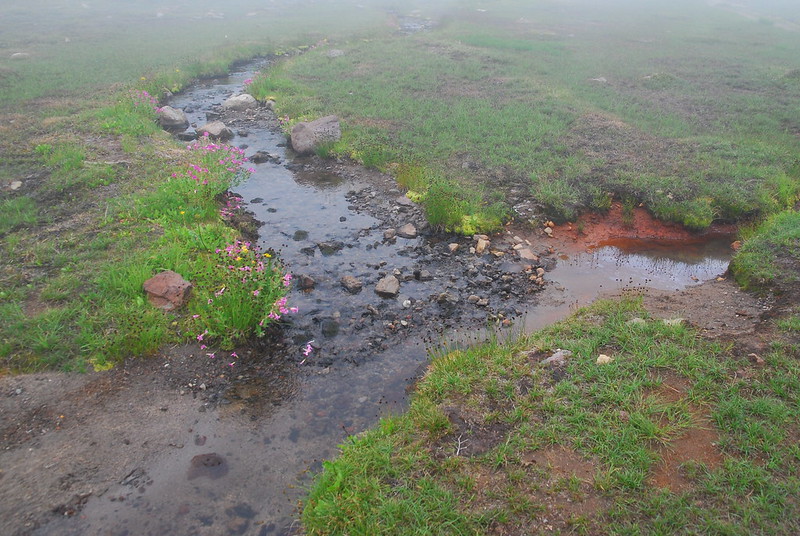 Pasque!
Lupine!
Krista!
6.
As we hit the pass, it starts to sprinkle a little, so we decide not to lollygag, and descend down the Lily Basin Trail (#86) straight to Goat Lake. The flowers remain just incredible. I continue my exclamations.
Paintbrush!
Pandemonium!
Monkeyflower!
7.
When we stop at the lake for lunch a few minutes later, it's initially all fog.
Eventually, though, it starts to clear. Hey, there's a lake here!
I am very – some might say disgracefully – excited by all of this.
8.
Given the unexpectedly nice views, we spend a while rambling around taking pictures, and taking in the many, many campsites and clearings around the lake. I find myself wishing for some of those Jefferson Park style "Area Closed for Restoration" signs.
9.
Eventually, we continue on east. I just love the basin here. It doesn't have a name, which just seems wrong. "Goat Creek Basin" just doesn't seem grand enough. I resolve to hereafter think of it as "Wedding Basin."
As it passes from Goat Lake to Snowgrass Flats, the trail passes several gorgeous creeks.
Looking back at Goat Creek:
10.
The flowers around Snowgrass Flats are all sort of sad and dead, but there are still good views up toward Old Snowy Mountain…
…and Mount Adams even pops up for a moment to say hello.
We stop for a moment at where we camped at thirst trip. The Wedding Basin Chateau. Krista kisses me, even though I'm all sweaty and gross. As we jaunt down the hill, I get a little teary.
11.
From Snowgrass Flats, the trail reenters the woods. I put the camera away and we motor down a few miles. We pass a half dozen groups headed up for the night, sweating in the late afternoon humidity. They look like we did the first time we came here: packs lording over their heads and drooping down to their knees, boots blistering their feet as we speak. Most of them ask how much further, and we smile and lie: "Not too much further."
The first time we came here – our first backpacking trip – maybe a half mile in, Krista stopped, swatted a few hundred mosquitoes from her face, and told me, in a measured tone: "I'm not complaining, but this is the hardest thing I've ever done." It rained that night, then it thundered. We'd chosen a bad spot, and water streamed first under, then through the tent. I got out in my heavy snowpants and stole rocks from the fire ring someone had left to prop up the sides of the tent, dug canals along the side, where water obligingly flowed. Every few seconds the whole basin flashed bright with lightning. I got back in the tent fifteen minutes later, then shivered for an hour.
The next night, I fell asleep while Krista read Ray Bradbury out loud. It stormed that night too, but our moat held. And it didn't storm at all the next weekend at Green Lakes. Or the weekend after that at Arrowhead. Or the weekend after that at Jefferson Park.
12.
We stop to pick blueberries at a small creek most of the way down, then stop again at a gorgeous bridge over Goat Creek.
Then it's just a couple more miles through the woods, through yet more flowers. Here's Fireweed:
And the wonderfully named Prince's Pine:
13.
We make it back to the car just as clouds are gathering for an evening show, then coast down the rutted road back to Randle. As the sun's setting, I tell Krista she can take a nap if she likes. I've got audiobooks. But she's not tired. Or she is, but she's too sweet to make me do the drive alone. And she reaches over to hold my hand as we both look forward.